...Shoes have Power!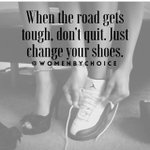 I recently got a flurry of retweets when I posted this image by Janelle Jordon and it reminded me of this post that I'd not actually shared.
Enjoy!
The blog!
This week at work I stopped in my tracks on the way to a meeting. Literally!
Why?
Shoes, that's why! And these shoes had apparently had a similar effect on others.
My colleague was wearing, not a boring black pair of boots like most others but these eye catching, different and 'clearly not from the high street' pair of cute, funky shoes (sorry about the pic' quality)
What a conversation starter they were!
Check out 'Poetic Licence' or 'Irregular choice' for similar styles!
They convinced me that I'm right to be a great believer in
the positive power of shoes
. What we wear on our feet can give us comfort (think slippers), confidence (think of a red pair), gravitas (a pair of classy black courts) or just be plain damn fun conversation starters!
Other
reasons I love shoes
include:
Shoes allow us to break the rules - one of the great things about shoes is that the colour matters less (being away from our face).
And shoes don't discriminate: take those classy black courts I've referred to... there's a pair to suit everyone irrespective of foot size, weight, body shape, race, gender and so on (and yes, I know that some people struggle, but it's possible right?!*)
They can also really tell a story, and I think everyone's got at least one pair with a tale to tell!...
...A story accompanied the 'stop me in my tracks' shoes (they were a gift), and stories accompany many of the shoes I own - from the pair I got married in, to the pair of leopard print pumps that were one of my first ever flats, and back to heels again with the blingy ones I wore as a calendar girl! (
www.2015calendar.co.uk
)

A pair of my storytellers!

So, the question is...!
...What stories could your shoes tell?
*And, if you're one of my readers with big or small feet, slim or wide, and those who can't wear heels you may think that that I'm being over simplistic, so just holler if you need some advice - you can ask me the questions!
Goodbye boots, Hello Springtime & shoes!
Denise x
Call on: 07887 643807 for a body confidence coaching session or image services

Look at: www.damsonbelle.co.uk

Follow at: @DenDamBelle

Check out my Pintrest: Denise Sanderson-Estcourt

Like me at: Damson Belle on Facebook

Join: This blog!