... Mind your language



I was fortunate enough to be invited to sit on the Models of Diversity 'Front Row' with an awesome panel for a debate on body confidence.
The debate was brilliantly hosted by Barbra of MoD who presented a number of statistics to trigger discussions - one of the points that most cases of bullying is based on 'image' and this was validated several times firstly by panel member Abi (Phillips) and then by a number of others.
Thankfully there was a serious amount of expertise and experience on the panel

*

for the floor to tap into so this wasn't just something that was talked about without support and suggestions.
After the bullying discussions concluded, some amazing points and discussions revolved around the role of the media, social media, schools, parents, designers, retailers and the modelling industry in the apparent rise in body confidence issues. We agreed that the issue of body confidence is a complex one, with environments and triggers being different for anyone who experiences a lack of body confidence at one end of the scale to the more serious issues of body dysmorphia and eating disorders.
Those in the room itself reflected this - it was packed with a diverse and passionate audience, each with a story to tell and some who shared their inspirational stories about overcoming bullying and other challenges on their journey to body confidence. One notable contribution was from vibrant Khandie Kisses who got the crowd laughing and crying with her story.
From the front row, some of the key points from each of the panel members were these (in seating order):
Abi - 1. you can beat the bullies, be strong; 2. it's not all about looks, it's about talent
Sam - of Men Get Eating Disorders Too said: 1. it's exactly as it says (and who am I to add more!), 2. there's increasing pressure on boys but not necessarily around 'fashion'
Lauren - 1. the impact and complexity of body image and the mental health/illness perspective; 2. there's progress/action being taken - even at government level
Nicola - 1. keep it real with humour, and praise others; 2. everyone was "beautiful" *wink*
Lorena - 1. body confidence starts at home; 2. we have responsibility to redirect troubled individuals when issues are serious if an issue and out of our remit
Beth - 1. let's not focus on beauty (especially with girls) and/size, let's focus on healthy; 2. find your happy and skills
As for me, my observation was how much language and words matter. Bullies and the media can use language that belittles and hurts, but as (if not more) importantly we ourselves, and role models like parents and schools have a responsibility to 'mind our language',
The words we use to describe ourselves and label others is powerful and heard by the younger generation, so... We can either use our words to belittle others value or to build them up.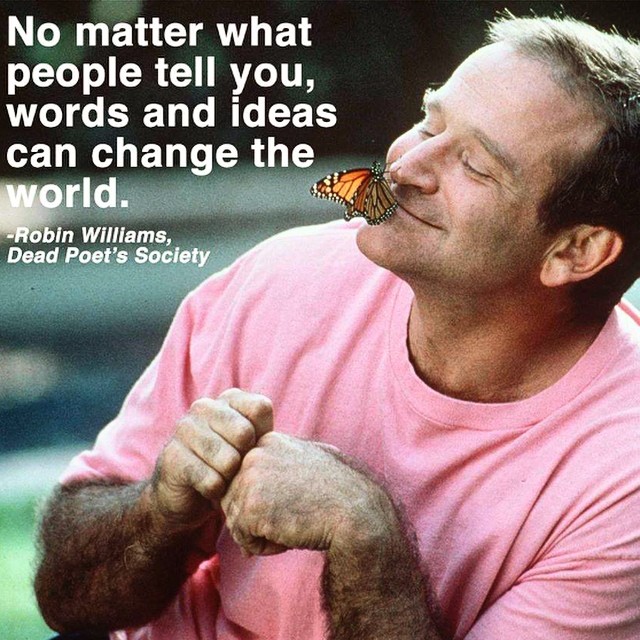 Thank you Robin Williams for saying it better than I, and for the laughs - RIP
Given their power, we can and should also use our 'voices' to lobby the fashion industry, media and any other influencers so that they mind their language too. After all, (for example) there shouldn't be "plus-sized models, there should just be models"- Beth.
Let's use our words to change things (and others) for the better!
I met some super people that night and the experience was a really special one. Personally, I am just proud and humbled that I was invited to be part of something that was so positive and inspiring.
Lift each other up people.....
Denise x
Call on: 07887 643807 for a body confidence coaching session or image services

Look at: www.damsonbelle.co.uk

Follow at: @DenDamBelle

Check out my Pintrest: Denise Sanderson-Estcourt

Like me at: Damson Belle on Facebook

Join: This blog!